iPET - SISTEMA PET INTELIGENTE PARA IMAGIOLOGIA PRÉ-CLÍNICA
DESCRIÇÃO DO PROJETO
O projeto iPET pretende desenvolver um tomógrafo PET inteligente para imagiologia pré-clínica, com um método de aquisição inovador que reduz a complexidade e custo destes sistemas e melhora a qualidade das imagens obtidas, detetando e varrendo de forma inteligente regiões de interesse específicas.
Designação
Projetos de I&DT Empresas em co-promoção
Código do projeto
39880
Objetivo principal
Reforçar a investigação, o desenvolvimento tecnológico e a inovação
Região de intervenção
Centro
Entidades beneficiárias
RI-TE Radiation Imaging Technologies, Lda (líder)
Universidade de Aveiro
Universidade de Coimbra
Exatronic, Lda
Data de aprovação
06-05-2019
Data de início
11-09-2019
Data de conclusão
10-03-2022 (prorrogada até 30-11-2022)
Investimento total elegível
1.269.558,76 €
Apoio financeiro da UE (FEDER)
953.776,16 €
Entidade financiadora
CENTRO 2020 – Programa Operacional Regional do Centro
Organismo intermédio
ANI - Agência Nacional de Inovação S.A.
SÍNTESE
A Tomografia por Emissão de Positrões (PET) é uma técnica de diagnóstico muito poderosa, amplamente usada para obter imagens funcionais de órgãos e tecidos, capaz de detetar doenças numa fase muito inicial. É a técnica de imagem mais usada na prática clínica e também em investigação em Oncologia, sendo também muito usada para estudar funções cerebrais e cardíacas. A PET provou ser particularmente útil no estadiamento da doença e monitorização da sua evolução e resposta à terapia. Os sistemas PET pré-clínicos são usados para avaliar novos fármacos e terapias, assim como biomarcadores para diagnóstico por imagem, em modelos animais de doença (ratos e ratinhos), antes de ensaios clínicos Neste contexto, a PET pré-clínica é uma importante ferramenta na investigação médica, com o potencial de acelerar o processo de descoberta e desenvolvimento de novos fármacos. No entanto, a alta complexidade e custo de implementação da tecnologia e restrições orçamentais das instituições e projetos de investigação na área da saúde, limitam a sua adoção e uso. A tecnologia iPET permite o desenvolvimento de novos sistemas PET pré-clínicos, de alta resolução e baixo custo, com um método único e patenteado de aquisição de imagem inteligente. O sistema iPET irá permitir a democratização do acesso à tecnologia PET no ambiente pré-clínico. Esta nova tecnologia, desenvolvida em parceria com a Universidade de Aveiro, assegura uma excelente performance de imagem PET a um preço muito inferior: cerca de 20% dos sistemas concorrentes. Com base em atividades de I&D prévias que provaram com sucesso o conceito da tecnologia, o projeto iPET propõe-se desenvolver, assemblar e testar um sistema PET pré-clínico para investigação biomédica.
CONSÓRCIO
Startup dedicada à investigação e desenvolvimento no domínio da instrumentação nuclear para deteção e imagiologia de radiação.
Departamentos de Física (Lab. de Deteção de Radiação e Imagiologia Médica), Eng. Mecânica e Comunicação e Arte.
Grupo de modelação em Oncobiologia do Instituto de Investigação Clínica e Biomédica de Coimbra (iCBR).
Empresa especializada em inovação e investigação, engenharia e produção de eletrónica.
RESULTADOS
Em desenvolvimento...
Estudos experimentais e de simulação do sistema iPET e células unitárias.


Definição de especificações e requisitos técnicos.


Sistemas eletrónico e mecânico do tomógrafo iPET.


Algoritmos de aquisição e reconstrução de imagem inteligentes.


Firmware de controlo e software de aquisição de dados, visualização e pós-processamento de imagem (interface gráfica).


Construção de protótipos.


Testes e ensaios laboratoriais e em ambiente pré-clínico.


EVENTOS, PROMOÇÃO E DIVULGAÇÃO DE RESULTADOS
Congresso mundial de Física Médica e Engenharia Biomédica da IUPESM, 2022
O Congresso Mundial de Física Médica e Engenharia Biomédica da IUPESM (International Union for Physical and Engineering Sciences in Medicine) (WC 2022), realizou-se de 12 a 17 de junho de 2022 em formato híbrido, online e em Singapura. Foram apresentados três trabalhos resultantes dos trabalhos de I&D do consórcio do projeto iPET, por elementos da Universidade de Aveiro:

• Integrated vital signs monitoring system for in-vivo preclinical imaging;

• A simple CT integration in a preclinical PET scanner;

• easyPET.3D: a benchtop affordable PET scanner towards democratization of nuclear medical imaging education and preclinical research;

Encontro anual SNMMI 2020
O projeto iPET foi apresentado no encontro anual da Associação Americana de Medicina Nuclear e Imagiologia Molecular (SNMMI 2020), de 11 a 14 de julho de 2020 em formato virtual devido à pandemia de COVID-19, através da participação com stand virtual dentro da "sala de exposições" da conferência (Exhibit Hall), acessível a todos os participantes e onde foi possível disponibilizar informação sobre o projeto de I&DT e resultados, assim como sobre a empresa, através de vídeos, apresentações e documentos. Além disso, reuniões 1:1 com visitantes do stand permitiram promover e divulgar de forma direta os resultados do projeto iPET.
Encontro anual EANM 2020
O 33º encontro anual da Associação Europeia de Medicina Nuclear (EANM) decorreu entre 22 e 30 de Outubro de 2020, numa edição excecional, pela primeira vez em formato virtual, face ao contexto da pandemia de COVID-19. A EANM é a maior organização dedicada à medicina nuclear da Europa com o objetivo de disseminar e discutir os últimos resultados na área, incluindo modalidades de imagem e assuntos relacionados, coordenando o câmbio de conhecimento sobre o diagnóstico, tratamento e prevenção de doenças através do uso de substâncias radioativas e propriedades de nuclídeos estáveis na medicina. Sediada em Viena de Áustria, representa mais de 9000 especialistas de 41 países da Europa. Os congressos anuais da EANM atraem mais de 6000 participantes em cada ano. A participação dos membros do consórcio neste evento teve o principal objetivo de divulgar e promover a tecnologia que tem vindo a ser desenvolvida no âmbito do projeto iPET, apresentando os resultados de I&D já alcançados e objetivos a atingir, expondo também os resultados de atividades de I&D anteriores que resultaram na construção do sistema easyPET.3D, ponto de partida para o atual projeto. Este evento permitiu aos participantes do consórcio apresentarem um total de 5 trabalhos, incluídos no programa científico: 2 apresentações orais (top rated oral presentations) e 3 posters, assim como permitiu a participação da RI-TE com um stand virtual na exposição da indústria (industry exhibition), onde foi possível interagir diretamente com os visitantes e disponibilizar vários materiais de promoção e divulgação do projeto.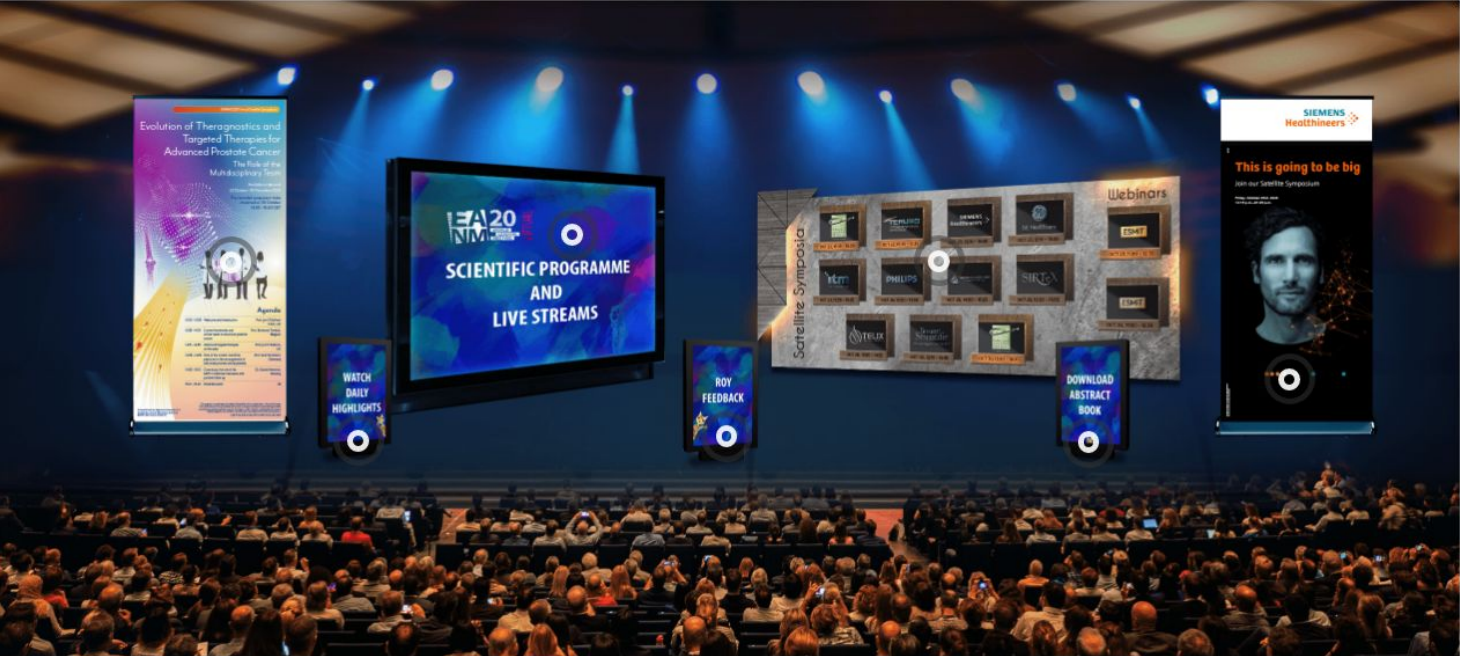 Anúncio na plataforma ResearchGate
Durante os meses de março e abril de 2021, o projeto iPET foi divulgado através de uma campanha publicitária online, na plataforma ResearchGate, com anúncio a promover o projeto iPET a uma audiência específica de investigadores científicos e a redirecionar para página do projeto em inglês (www.ri-te.pt/ipet), com apresentação e divulgação dos resultados do projeto.
PUBLICAÇÕES
Artigos
Comunicações
R. Oliveira et al., Integrated vital signs monitoring system for in-vivo preclinical imaging (apresentação oral), IUPESM World Congress on Medical Physics and Biomedical Engineering (IUPESM WC 2022), Hybrid, Singapore, 12-17 Jun. 2022


P. Correia et al., easyPET.3D: a benchtop affordable PET scanner towards democratization of nuclear medical imaging education and preclinical research (poster), IUPESM World Congress on Medical Physics and Biomedical Engineering (IUPESM WC 2022), Hybrid, Singapore, 12-17 Jun. 2022


A.L. Silva et al., A simple CT integration in a preclinical PET scanner (poster), IUPESM World Congress on Medical Physics and Biomedical Engineering (IUPESM WC 2022), Hybrid, Singapore, 12-17 Jun. 2022


F. Ribeiro et al., Mouse handling for 18F-FDG PET imaging: preparing the way for a future guideline (apresentação oral), Annual Congress of the European Association of Nuclear Medicine (EANM 2021), Virtual, 20-23 Oct. 2021


P. Encarnação et al., New geometric projector with DOI estimator for GPU based iterative imaging algorithms (poster), 2021 IEEE Nuclear Science Symposium and Medical Imaging Conference (NSS/MIC), Virtual, 16-23 Oct. 2021


P. Correia et al., Preclinical PET scanners based in easyPET technology: new developments for full body mice imaging (poster), 2020 IEEE Nuclear Science Symposium and Medical Imaging Conference (NSS/MIC), Virtual, 31 Oct. - 7 Nov. 2020


F. Ribeiro et al., A rat preliminary study on medication-related osteonecrosis of the jaw with a high-resolution microPET system (poster), 2020 IEEE Nuclear Science Symposium and Medical Imaging Conference (NSS/MIC), Virtual, 31 Oct. - 7 Nov. 2020


F. Ribeiro et al., A preclinical drug experiment in a mouse model using easyPET.3D (poster), 2020 IEEE Nuclear Science Symposium and Medical Imaging Conference (NSS/MIC), Virtual, 31 Oct. - 7 Nov. 2020


P. Encarnação et al., A reconstruction method based on LM-MLEM for an Ultra-dense VoR PET (poster), 2020 IEEE Nuclear Science Symposium and Medical Imaging Conference (NSS/MIC), Virtual, 31 Oct. - 7 Nov. 2020


I.F. Castro et al., Characteristics and properties of a novel cost-effective preclinical PET scanner for high performance molecular imaging of small animal models (apresentação oral), Annual Congress of the European Association of Nuclear Medicine (EANM 2020), Virtual, 23 Oct. 2020


P. Encarnação et al., LM-MLEM for an Ultra-High VoR density PET (apresentação oral), Annual Congress of the European Association of Nuclear Medicine (EANM 2020), Virtual, 30 Oct. 2020


I. Mohammadi et al., Design and Implementation of a network-based educational platform for simulation of a benchtop PET system (poster com apresentação oral), Annual Congress of the European Association of Nuclear Medicine (EANM 2020), Virtual, 24 Oct. 2020


F. Ribeiro et al., Quercetin as a potential psychotherapeutic agent in a mouse model with acute exposure to cocaine: a preclinical PET study (poster), Annual Congress of the European Association of Nuclear Medicine (EANM 2020), Virtual, 22-30 Oct. 2020


F. Ribeiro et al., A rat preliminary study on medication-related osteonecrosis of the jaw (poster), Annual Congress of the European Association of Nuclear Medicine (EANM 2020), Virtual, 22-30 Oct. 2020


P. Correia et al., EasyPET technologies (apresentação oral), 22nd IEEE Real Time Conference, Virtual, 19 Oct. 2020